DESIGN
Measuring in at 4.7 and 5.5-inches, the iPhone 6 and the iPhone 6 Plus dwarf previous iPhone models, but at the same time, the two phones are Apple's thinnest yet, measuring in at 6.9 and 7.1mm, respectively. For comparison's sake, the iPhone 5s was 7.6mm thick.
According to Apple, the thinner profile was made possible by the company's "thinnest display yet," which is made of slightly curved glass designed to flow seamlessly into the body of the device to highlight the "Retina HD" screen of the iPhone 6 and iPhone 6 Plus.

Both devices include prominent antenna bands on the back enclosure, along with a protruding rear lens. The volume buttons are pill-shaped, much like the buttons on the iPad Air, and the power button has been relocated to the right side of the device.
The iPhone 6 measures in at 5.44 inches long and 2.64 inches wide, and weighs 4.55 ounces. The iPhone 6 measures in at 6.22 inches long and 3.06 wide, weighing 6.07 ounces. In comparison, the iPhone 5s is 4.87 inches long, 2.31 inches wide, and it weighs 3.95 ounces.

RETINA HD DISPLAY
iPhone 6 rumors largely suggested Apple would use a sapphire display cover in the device, but that turned out to be false. Instead, the iPhone 6 and the iPhone 6 Plus use "ion-strengthened" glass with an improved polarizer (for better outdoor viewing), a photo aligned IPS liquid crystal display, and a fingerprint-resistant oleophobic coating.

The iPhone 6 has a 4.7-inch display with a "2x" resolution of 1334 x 740 (326 ppi) while the iPhone 6 Plus has a 5.5-inch "3x" resolution of 1920 x 1080 (401 ppi). Both phones are said to offer higher contrast, better brightness, and improved white balance.
Apple has implemented several "Reachability" features to improve the viewing experience on its larger devices, including Display Zoom and landscape view (iPhone 6 Plus only). Display Zoom lets users zoom in to get a closer view at their apps, while standard zoom displays more content on the screen.
Landscape view on the iPhone 6 Plus is designed to make the most of the 5.5-inch screen and to help users be more productive. When in landscape mode, the device will display apps like Mail, Calendar, and Stocks in a wider view similar to the way they're displayed on the iPad.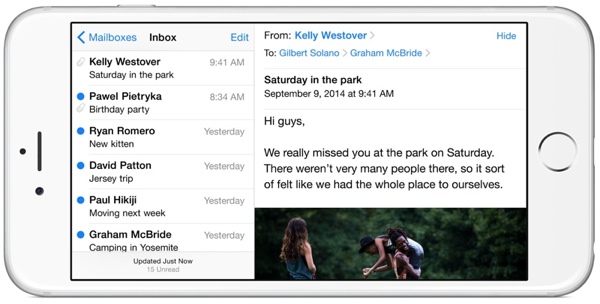 BATTERY LIFE
The iPhone 6 and the iPhone 6 Plus both offer improved battery life, but due to the larger size of iPhone 6 Plus, it is able to accommodate a larger battery. While the capacities of the two batteries are unknown, previous rumors pointed towards 1,810 mAh capacity for the iPhone 6 and a 2,915 mAh capacity for the iPhone 6 Plus.
Because it has a bigger battery, the iPhone 6 Plus has a longer battery life than the smaller iPhone 6. 3G talk time for the iPhone 6 Plus is at 24 hours, compared to just 14 hours in the iPhone 6, for example, while HD video playback is at 14 hours for the iPhone 6 Plus and 11 hours for the iPhone 6.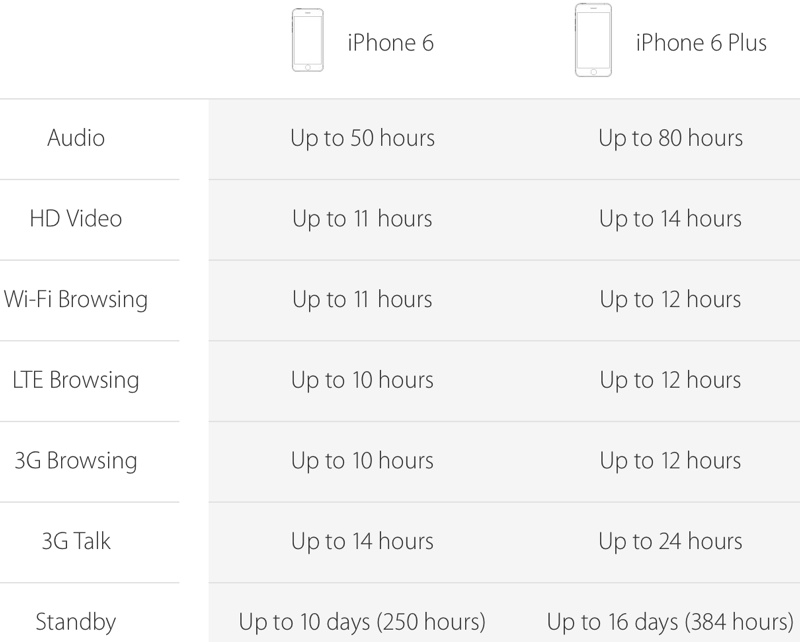 A8 CHIP AND M8 MOTION COPROCESSOR
Both the iPhone 6 and the iPhone 6 Plus have a new 64-bit A8 processor built on an advanced 20-nanometer process. Not only is the chip smaller than the A7 in the iPhone 5s, it's also able to deliver 25 percent faster CPU performance while being 50 percent more energy efficient.
The A8 takes full advantage of Metal, Apple's gaming technology that lets developers create console-style games on the iPhone. According to Apple, Metal is designed to let the GPU and CPU work together to provide detailed graphics and complex visual effects, which means gaming on the iPhone 6 and 6 Plus is going to be better than ever.
Alongside the A8, there's also a new M8 motion coprocessor, which is the successor to the M7 motion coprocessor introduced in the iPhone 5s. The M8 measures data from the accelerometer, compass, and gyroscope, along with a barometer, which is new to the iPhone 6.
With the addition of the barometer, the M8 motion coprocessor can measure elevation in addition to steps taken and distance traveled.
CAMERA IMPROVEMENTS
The iPhone 6 and the 6 Plus continue to sport an 8-megapixel f/2.2 rear camera, but the addition of several new features will result in vastly improved picture quality. Continuing to offer improved camera capabilities has always been a priority for Apple, with the company even opting to include a protruding lens design to avoid making image quality sacrifices for the sake of the thin design of the iPhone 6 and 6 Plus.
The first major new feature, "Focus Pixel," is designed to speed up autofocusing by providing the sensor with more information about an image, while improved auto image stabilization will compensate for slight amounts of motion blur and hand shakiness.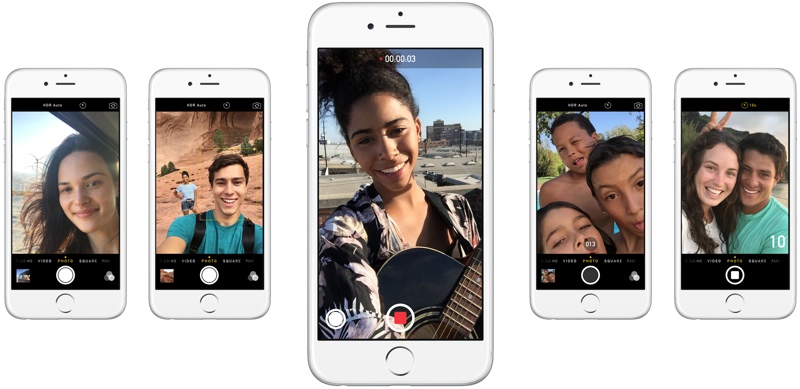 Both phones also have improved face detection capabilities and more control over exposure, and the Panorama feature now supports high-resolution panoramic photos of up to 43 megapixels.
Video options have been improved in the two devices, and it's now possible to capture 1080p HD video at 60fps. There's also a new 240fps slo-mo mode, and time-lapse video, which was introduced with iOS 8.
The iPhone 6 Plus has one slight advantage when it comes to the camera, however, as it takes advantage of the M8 motion coprocessor to offer optical image stabilization. Optical image stabilization better compensates for hand shake and slight movements in low light than standard auto image stabilization techniques. As a result, it's likely the iPhone 6 Plus will be able to deliver higher quality low-light photos than the iPhone 6.
Along with rear camera improvements, the iPhone 6 and the iPhone 6 Plus have improved front-facing FaceTime HD cameras with a new sensor and an f/2.2 aperture. With these improvements, Apple says the front-facing camera can capture 81 percent more light, resulting in much better low-light photos. There's also a new burst mode for the front-facing camera, which will let users take burst mode selfiesfor the first time.
CONNECTIVITY IMPROVEMENTS
Apple's iPhone 6 and iPhone 6 Plus both offer faster LTE with support for LTE Advanced networks, reaching speeds of up to 150 Mbps, and they offer 20 LTE bands for better connectivity when traveling.
The devices also include support for Voice over LTE (VoLTE) which allows users to make higher-quality phone calls over LTE. VoLTE will also allow users on CDMA networks like Verizon to use voice and data simultaneously for the first time. VoLTE requires support from both Apple and carriers, and several carriers have pledged to roll out support for the service.
In addition to cellular improvements, the iPhone 6 and the 6 Plus are the first of Apple's iOS devices to offer support for 802.11ac Wi-Fi. 802.11ac Wi-Fi is able to offer connection speeds that are up to 3 times faster than existing 802.11n networks.
Finally, the iPhone 6 supports calls over Wi-Fi, which can result in higher-quality calls, especially in situations where a cellular connection is low. Calling over Wi-Fi is another feature that requires carrier support, but again, some carriers, like T-Mobile, have already pledged support.
OTHER FEATURES
Like the iPhone 5s, the iPhone 6 and iPhone 6 Plus continue to offer Touch ID, Apple's fingerprint-based security system. With iOS 8, which ships on the iPhone 6/6 Plus, Touch ID will become even more powerful, thanks to third-party Touch ID integration.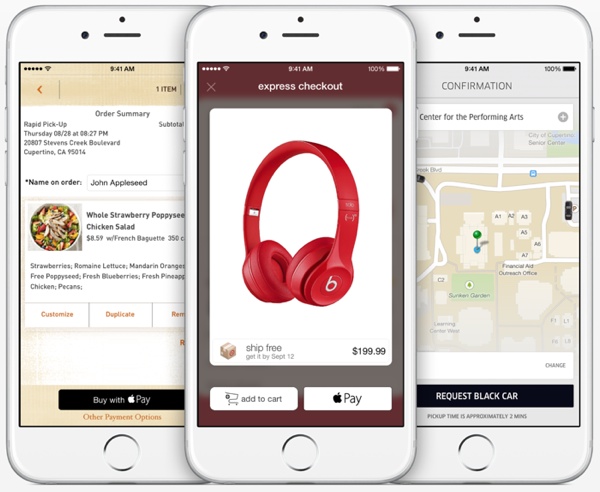 Touch ID is also an integral part of Apple's new Apple Pay mobile payments initiative, as is the Near Field Communication (NFC) antenna built into every iPhone 6. Apple Pay is designed to allow users to pay for purchases at thousands of retail stores with just a fingerprint.
OPERATING SYSTEM
The iPhone 6 and the iPhone 6 Plus will ship with iOS 8, Apple's newest mobile operating system. iOS 8's main goal is to improve integration between Apple devices, both mobile and desktop, through the use of "Continuity."
With Continuity, users can seamlessly transition tasks between iPhones, iPads, Macs, and the Apple Watch. iOS 8 also includes features like interactive notifications, widgets in the Notification Center, third-party keyboards, and a new QuickType predictive keyboard. More information about iOS 8 can be found in our iOS 8 roundup.